Please see our wiki's policies and guidelines here before contributing!
Welcome to the Nanbaka Wiki!
Welcome to the Nanbaka Wiki!
Your online source for all information on the web manga and upcoming anime, Nanbaka.
This wiki already contains 15,964 number of edits and a total of 581 articles since its creation in June 2016.
» Please do be aware that UNMARKED SPOILERS lie within! «
Rules & Guidelines • Manual of Style • Articles in Need! • Request for Adminship • Admins
Characters
About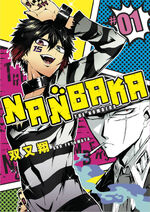 "A super exciting action comedy starring the inmates and guards of the world's most formidable prison."

Nanbaka 「ナンバカ」 is a Japanese manga series written and illustrated by Shou Futamata and has collected 4 volumes thus far, and updates weekly on Saturday. A 13-episode anime television series adaptation premiered in the Fall season on October 5, 2016.

Shou Futamata began serializing the manga on NHN PlayArt's Comico manga app on October 13, 2013. The series is published in print by Futabasha. Crunchyroll Manga acquired the series for digital publication in English.
Polls
Vote for the Next Featured Character! (Ver.1)
Who is your favorite character?
Are you going to watch the Nanbaka anime?
How are you enjoying the Nanbaka anime so far?
Are you guys ready for season 2?
How did you like the anime adaption for Nanbaka?
Would you watch a season 3?
Featured Character

Kojiro (五死郎 Kojiro) is an antagonist in the Nanbaka Web Manga. He's one of the members of Team Elf.

Kojiro is known to be a lively, hyperactive person, who is extremely generous to everyone. He doesn't hold a grudge to anyone and accepts everyone for who they are. He always shows his optimistic side, and whenever someone feels down, he'll try cheer them up whatever it takes. People can talk about any matter with him as he's a good listener, although, being him childish a bit, he often doesn't know how to respond. He's a bubbly and happy-go-lucky character, which are surprising traits for an antagonist.
Chapter Releases
Nanbaka's Web Manga updates weekly every Saturday on Comico.
External Links
Twitter Feed
Affiliates
If you are interested in affiliating with us, please contact an admin.
Community content is available under
CC-BY-SA
unless otherwise noted.