Please see our wiki's policies and guidelines here before contributing!
Welcome to the Nanbaka Wiki!
Welcome to the Nanbaka Wiki!
Your online source for all information on the web manga and upcoming anime, Nanbaka.
This wiki already contains 21,191 number of edits and a total of 581 articles since its creation in June 2016.
» Please do be aware that UNMARKED SPOILERS lie within! «
Rules & Guidelines • Manual of Style • Articles in Need! • Request for Adminship • Administration
Characters
About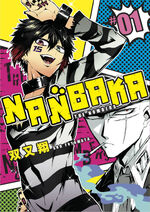 "A super exciting action comedy starring the inmates and guards of the world's most formidable prison."

Nanbaka 「ナンバカ」 is a Japanese manga series written and illustrated by Shou Futamata and has collected 4 volumes thus far, and updates weekly on Saturday. A 13-episode anime television series adaptation premiered in the Fall season on October 5, 2016.

Shou Futamata began serializing the manga on NHN PlayArt's Comico manga app on October 13, 2013. The series is published in print by Futabasha. Crunchyroll Manga acquired the series for digital publication in English.
Polls
Featured Character

Nico (ニコ Niko) is one of the main protagonists of the Nanbaka anime and web manga series. He is an inmate of Nanba Prison where he is held in building thirteen, cell thirteen. Arrested for unwittingly buying and selling drugs in the slums, he is a sickly individual who is dependent on medication for survival.
Nico has a cheerful, childish personality. He rarely takes things seriously and is enticed by almost everything, displaying his innocence. He is characterized by his love of anime, manga and video games, described as an Otaku, and sees such things as a necessity of the same level of food and medication; this is due to his admiration for the protagonists within these stories, which inspired him to be lively and carefree after having originally had little hope for the future. He is affectionate and cares greatly for his friends, tending to become lonely without them.
Chapter Releases
Nanbaka's Web Manga updates weekly every Saturday on Comico.
Twitter Feed
External Links
Affiliates
If you are interested in affiliating with us, please contact an admin.